Virtual Children's Grief Awareness Day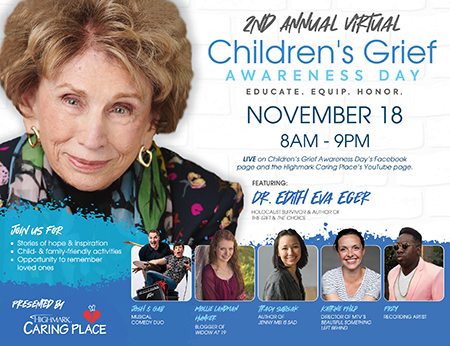 On Thursday, November 18, 2021, the Highmark Caring Place hosted the Second Annual VIRTUAL Children's Grief Awareness Day.
The schedule of the day's presentations and activities are shown below, including links to those Presentations and to the Activities Sheets that accompanied some presentations. All the videos are also available on a YouTube or Facebook playlist for viewing at any time.
8 am — Empowering Children to Feel Safe to Say "I'm Not OK" — Children's Grief Awareness Day Kick-Off (Terese LaVallee, Sally Wiggin, Merril Hoge, Vicki Jay, and Neil Walker)
9 am — It's OK to Remember — "If I Could Turn Back Time" Presentation and Worksheets (Valerie's House — Fort Myers, Naples & Punta Gorda, Florida)
10 am — "Ride the Wave" and "Living Life While Grieving" Songs (Josh & Gab - Pittsburgh, PA) with "Ride the Wave" Activity (Highmark Caring Place — Pittsburgh, Pennsylvania) — "Ride the Wave" Worksheet
11 am — It's OK to Show Your Feelings — Middle/High School Block includes:
12 pm — "Companion Planting" Presentation and "Companion Planting" Worksheet (AgWorks Program — Harrisburg, Pennsylvania)
1 pm — It's OK to Be Sad – Author Interview & Activity, with "Today's Feelings Book" Handout featuring the author of Jenny Mei Is Sad (Tracy Subisak — Portland, Oregon)
2 pm — "It's OK to Not Be OK" — Grief Talks Webinar (Highmark Caring Place)
3 pm — It's OK to Tell Your Story – A Conversation About Grief with Holocaust Survivor & Author Dr. Edith Eva Eger (La Jolla, California); "Meet Dr. Eger" handout
4 pm — It's OK to Grieve Together – "When Someone Dies: Activity Cards for Young Children" Presentation with Activity Cards Handout (National Alliance for Children's Grief — Lubbock, Texas)
5 pm — It's OK to Dance — "It's a Beautiful Day" Mister Rogers' Tribute featuring recording artist FRZY (Pittsburgh, Pennsylvania)
6 pm — It's OK to Express Yourself — Activities include:
7 pm — It's OK to Share Your Grief — MTV's Beautiful Something Left Behind Panel Discussion featuring Director Katrine Philp, Producer Katrine Sahlstrøm, and members of the cast (Copenhagen, Denmark & Robbinsville, New Jersey)
8 pm — It's OK to Keep the Memory of Our Loved Ones Alive — "Time of Remembrance" featuring:
2021 Illuminating Hope Mosaic Mural reveal
Moment of Remembrance
"Hope" artwork creation & reveal by "Paints by Kait" — Seattle, Washington
9 pm — "Thank You for Supporting Us" — a message from grieving children, families, and organizations who support grieving children from around the world
Illuminating HOPE
After a loved one dies, there is a sense in which life feels darker, as if some light and color are drained from the world.
The Highmark Caring Place invites you to help shine a light of hope in this darkness through our Virtual Illuminating HOPE campaign.
Illuminating HOPE is a one of a kind gathering of virtual butterflies, each one a message of love and honor and support. People from across the world create and contribute virtual butterflies:
In MEMORY of loved ones who have died
In HONOR of a child or adult who is grieving
In SUPPORT of grieving children, adults, and families everywhere
The butterflies are added to a special Butterfly Garden on the Illuminating HOPE website. These messages of transformation and hope show children that they are not alone — that they are cared about and supported in their grief.
Seen as a whole, this garden is beacon of hope to all who are grieving the death of a loved one.
Go to HOPE.HighmarkCaringPlace.com to participate in our virtual Illuminating HOPE.
Other Activities
Many other activities, large and small, can raise awareness of grieving children. Look through the activities described here, or come up with some of your own, and do what you can to spread the word to those around you of the impact of death on children and of the importance of support in helping them to find HOPE in the midst of their grief.
Important Considerations as You Become Involved in Children's Grief Awareness Day Activities
As an important person in the life of children, there are a few things that are important for you to be aware of as you become involved in Children's Grief Awareness Day:
The purpose of Children's Grief Awareness Day is to call attention to the issue of children's grief, not to any particular child or children who have suffered a loss. Some children will want their grief recognized while others will prefer to keep it private. Always be certain to check with any child before calling attention to his or her circumstances.
The activities of Children's Grief Awareness Day can cause a possible "trigger" reaction in those who have had someone close to them die, regardless of how much time has passed since the death. Be alert for signs of grief reactions and be prepared to provide support as needed.
If you are in a school setting, all personnel should be aware of any Children's Grief Awareness Day activities whether or not they are directly involved. Parents and guardians should be made aware of any planned activities as well. All messages used in conjunction with any activity should be appropriate to the developmental age of the children involved.
The most basic way to participate in Children's Grief Awareness Day is to have as many people as possible—children and adults—wear blue. Publicity about the reason for wearing blue—to show awareness of grieving children—allows the entire community to know what Children's Grief Awareness Day is about.
Activities for families
The descriptions of the following activities are oriented mostly toward groups or organizations, but many of them can also be easily adapted for families or individuals. As you read through the list of options, see what would work best for you and your family!
Publicizing your activities
If you're planning an event for Children's Grief Awareness Day, let people in your area know what will be coming up by publishing announcements in media including bulletin boards and newsletters, Facebook pages and websites. Look here for ideas on how to word these announcements in the weeks and days leading up to your event.
Activities
Please take some time to look at the many activities that have been shared with us from partner organizations over the years. If you have additional ideas for activities, please share them with us. We will highlight as many as possible.
Ways to participate any time
Grief education
Educate yourself about the grief of children and teens. Read about children and teens and grief. Become familiar with current knowledge about grief in general and grieving teens/children specifically.

Holding On To HOPE Pledge
Take the Holding On To HOPE pledge and show grieving children "I care and I am here." Take a picture of yourself with our Holding On To HOPE placard and post it social media with #childgriefday.

Local grief support programs
Tour your local grief support center or call a grief support program to see if they welcome community members interested in learning about their program. Tour the site or talk to staff and share your knowledge with your community.

Social media
Spread the word through the media and social media.

Facebook
Visit the Facebook page and "Like" it. Follow us on Twitter.

Spread the Word
Spread the word by telling three people about Children's Grief Awareness Day.
Ways to participate on Children's Grief Awareness Day
Blue
Wear blue!

Profile picture
Change your profile picture to HOPE the butterfly leading up to Children's Grief Awareness Day and let people know its meaning.

Information table and posters
During the month of November, display an information table or posters on Children's Grief Awareness Day. Find posters, fact sheets and other resources in the "Resources" section of the site.

Artistic displays
Create murals and bulletin board displays. You're limited only by your creativity!

Local events
Research and attend Children's Grief Awareness Day events in your area. Check with your local grief support program or hospice to learn about what they're planning.
Ways to participate with your community or group
Blue out
Organize an event to get a large number of people to demonstrate their support of grieving children in a visual way. Organize a "Blue Out" where all business employees, all school students and faculty, or all members of the community wear blue and/or decorate areas in blue.

Blue decorations
Decorate your room/office/building or other area with as much blue as possible.

HOPE illumination
Work with a theater or lighting company to project an image of 'Hope' the butterfly on a local building.

Aerial photograph
Take an aerial photograph of students in the shape of a butterfly or all dressed in blue and post it to social media.

Butterfly formation
Have your local marching band march into a butterfly formation while playing an uplifting song.

Memory wall
Create a memory wall. Tape art paper on a wall and allow people to contribute to the wall with washable markers. Or buy large canvases at a local art supply store and allow people to contribute with permanent markers or paint markers.

Butterfly release
Organize a butterfly release. Provide one to each participant and release the butterflies during a memorial or ceremony.

Fundraisers
Organize a fundraiser. Sell blue bracelets, bead necklaces, T-shirts and/or temporary tattoos.

HOPE chains
Create a HOPE chain using various shades of blue strips of paper. Participants can write the names of loved ones they would like to remember or messages of support to others.

Signed T-shirts
Wear T-shirts with names of loved ones written on the back. Have others sign the shirts in a show of support.

Art show
Organize a 'grief art' show so individuals can express their grief in a visual way. Display the art in a local mall or community building.

Videos
Work with children to produce a short video explaining what Children's Grief Awareness Day is about and host it on your YouTube channel.

Public officials
Work with a local or state government official to issue a resolution, citation or proclamation regarding Children's Grief Awareness Day.

Bake sale
Host a bake sale and sell blue items like butterfly cookies, candy, muffins, or slushies. Have people play 'Guess the Number' of blue pieces of candy or gum in a container.

Flash mob
Choreograph a flash mob to bring attention to Children's Grief Awareness Day.
Ways to use crafts on Children's Grief Awareness Day
Face painting
Offer face painting for kids at your Children's Grief Awareness Day event. The image of HOPE the butterfly is a good image for face painting.

Thumbprint tree
Design a "thumbprint tree" and allow for messages to be written in the thumbprints.

Butterfly masks
Create butterfly masks.

Butterfly magnets
Create butterfly magnets using foam, cardstock or cardboard. Decorate using markers, stickers and other craft supplies. Attach a magnetic strip to the back.

Banners
Create a Children's Grief Awareness Day banner. Have individuals sign the banner in support of grieving children.

Memory ribbons
Create memory ribbons.

HOPE display
Spell out HOPE with butterflies.

Butterfly paintings
Create butterfly paintings or T-shirt paintings.

Luminaries
Decorate a luminary. Bags can be decorated using crayons, markers, stickers or decorative paper punches. Use battery-operated LED lights as a safe way to illuminate the bags.

Decorated T-shirts
Wear T-shirts with the names of loved ones written on the back. Have others sign the shirts in a show of support.

Wall of hope
Create a wall of HOPE. Provide paper butterflies, hearts or leaves on which people can write the names of loved ones or messages of support. Attach them to banners or posters or hang them on Children's Grief Awareness Day "trees."